Planning to take a guided tour or individual of Russia
Look no further! We are the Agency that plans your trips according to your needs and your interests and at the best price guaranteed
Russian Visa
Visa applications for Canada residents are to be submitted at the Russia Visa Application Centres in Ottawa, Toronto and Montreal. All applications will be assessed by The Embassy and Consulates General of the Russian Federation in Canada.
Visa type / length of stay:
Tourist visa: 1 month's maximum, (single or double entries)
Business visa: 1 year maximum (single or multiple entries).
Delays:
Processing times are 3 working days or 20 working days depending upon the visa category applied for and the application itself. Kindly ensure all your documents are complete at the time of submission of your application in order to avoid any further delay or inconvenience.
If you plan on doing sightseeing, visiting museums, theatres and other things that travellers usually do for fun, you will need to apply for a TOURIST visa. Tourist visa is the most popular type, it is also the easiest and the fastest to get.
Depending on your nationality, you may choose between a single entry visa valid for up to 30 days, a double entry visa valid for up to 30 days.
To apply for a TOURIST visa, you should have a voucher from a tourist agency. As an accredited travel management company, Avia Voyages provides tourist voucher and full visa service, so you won't have to do a thing to secure one.
Russian tourist visas can not be extended and must be registered if you stay in Russia for more than 7 business days.
Documents:
Original passport with at least two free pages still valid at least six months after your stay in Russia;
A (3, 5 x 4, 5 cm) Picture pasted on the form;
A Visa application form duly completed, signed and dated; Click to start completing the application form ;
If for Tourism Visa: Voucher and confirmation (voucher of the hotel or the Russian Agency.);
If for Business Visa: A telex of approval or an invitation letter valid for the duration of the stay and issued by the Russian authorities;
Tourism / business: for > 3 months stays or for visa applicants of multiple entries, provide a certificate of HIV analysis negative.
Best places to visit
Destination Russia
Modern, huge and fashionable Moscow, the capital of Russia, is an endless journey into a history and culture that goes around you with blazing speed. The most famous entertainment destination, Moscow offers its visitors tremendous opportunities, whether you're seeking a trendy place to eat, to stay or to impress yourself with wonders of thriving metropolis.
In the heart of city with more than 11 million people living stays the Kremlin, the gem of the Moscow and the very symbol of Russia
In Moscow you may enjoy arts at the Tretiakov Gallery or Armory Chamber or see the ancient history sights such as churches and cathedrals dated back to 15th century. Wherever your interest is – the capital of Russia brings you the best opportunities
Located on the Neva river banks, is the historical and cultural pearl of Russia. Its artistic and historical importance is as big as that of London, Paris, Rome and Berlin. No wonder, it's called the cultural capital of Russia: this city inherits many significant historical traditions, monuments, places of interest and museums. Every tour to this city of islands and canals is a must-see unique and highly attractive experience for any person interested in Russian history, culture and sightseeing.
The Golden Ring is a ring of cities northeast of Moscow, the capital of Russia. These ancient towns, which also played a significant role in the formation of the Russian Orthodox Church, preserve the memory of the most important and significant events in Russian history. The towns have been called "open-air museums" and feature unique monuments of Russian architecture of the 12th–18th centuries, including kremlins, monasteries, cathedrals, and churches. These towns are among the most picturesque in Russia and prominently feature Russia's onion domes.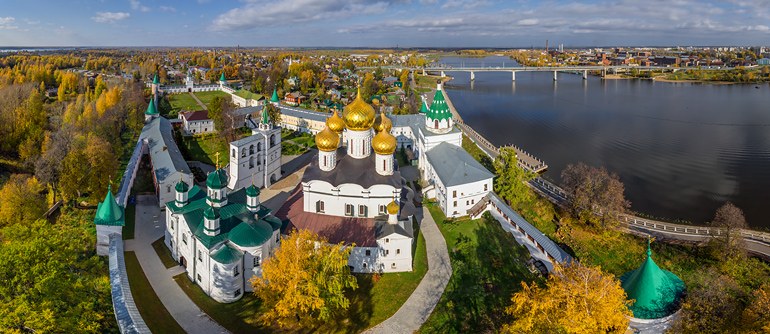 River cruise between two Russian capitals
Russia opens its doors and invites you, along the majestic Volga, to discover kilometer after kilometer the history of this gigantic country. From the monastery of St. Cyril-of-the-White-Lake to theRed Square in Moscow . Spectacular scenery of the Orthodox churches at the foot of the Stalinist skyscrapers, we will then cross forests to arrive to our final destination St. Petersburg, the highlight of this trip, where you can admire the architecture.
MOSCOW – UGLICH – GORITSY – KIZHI – MANDROGI – SAINT PETERSBURG